Sam Adams
Odyssey

part 6:
double agent IPL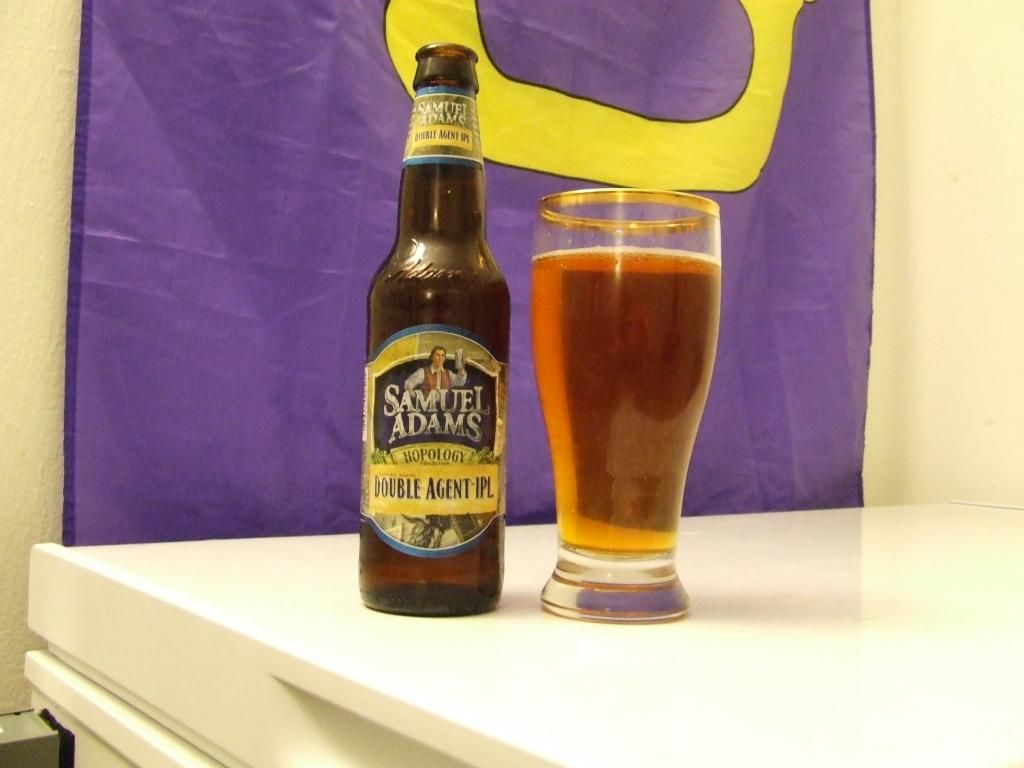 So far, every single hop forward beer from Sam Adams has been very good, and I had high expectations for this beer, that actually had some decent reviews on ratebeer and beer advocate (for their other hopology brews, I found the reviews to be lukewarm). I suppose that this can be explained by the fact that its a unique beer: a hoppy lagger.......and reviewers tend to respond better to new things like that than just another IPA.
I had also had it before, but not recently (recipes change), and I had never given it a in-depth review (or finished a whole bottle of the stuff!). Well, lets take a look at this brew...........
Boston brewing company

Double Agent IPL, 1.99\ 12 oz

Style: American pale lager

rating: ratebeer(94\100), beer advocate (85\100)

personal rating: Ba Style

Appearance: Vibrantly clear. The beers lagger visuals are quite striking. A decent head comes with this one, but dissipated before I could snap a picture. But when it was their, I have to say, the beer looked amazing. 4.5\5

Aroma: pine\tar sap, wood, and big giant resiny hops. If their was hops where a tree, this is what its amber sap would smell like. A bit of bready mixed in as well. Very well pronounced hop flavor (especially since I'm getting over a cold and cant smell very well right now!). 4.25\5

Taste: this tastes like everything that the smell suggested that it would be. This beer tastes of huge amounts of hop resins, and its all up front. The neutral hop bitterness (what might be described as the IBU's) is also pretty noticeable. Id place it in upper-medium areas. It might be far too much for a new drinker, but anyone who likes IPA's should be comfortable with this beer. And as for the lager components, they work rather well. The clean flavor of the lager helps accentuates the hops, and the beers natural beady sweetness helps counter its hopping even at such a low alcohol level. 4.25\5

Mouthfeel: for the abv and style, the mouthful is actually not too light. Fairly nice, sweetish, with a decent dose of carbonation (tho a bit more would make it feel better). 3.5\5

Overall: This beer is really gave me no surprise, as I had had it before and rated it fairly well. But that was almost a year ago, and now that I like hops more, I like this beer a lot more as well. I'm not sure if they made it better over the time or if its just me that's changing, but I give it a 4.25\5. A very nice brew, and an example of how Boston Brewing can defiantly do something very new and interesting.

BA average(4.19\5), personal score:90\100.
Would try again!
Well, their you have it! another great hoppy brew from Boston brewing. I'm hoping that they continue to surprise me and deliver the goods for good brews.
This makes 5\6 brews with of positive reviews......hopefully the new batch of 2014 Sam adams beers will keep the positive streak going.
Salud!